About Me
Ira Blonder

Franklin, TN, United States
Ira Blonder is the Managing Partner of Sound Kitchen Studios (www.soundkitchen.com)and The Blonder Group, LLC (www.blondergroup.com)
View my complete profile


News Archive

Wednesday, April 14, 2010
Franklin, TN: Rock sensations,
Paramore
, stopped by The Big Boy Studio to film some footage for
FUSE TV
. The piece will air later this month on Fuse.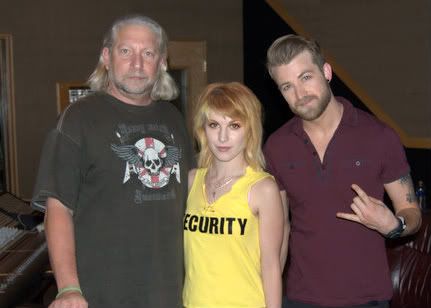 Pictured: Ira Blonder, Hayley Williams, Jeremy Davis
The power-pop-punk fivesome known as Paramore dates back to the band's high school years in suburban Franklin, Tennessee. Lead singer Hayley Williams was just 14 when she met guitarist Josh Farro and his younger brother, drummer Zac. Jeremy Davis and Hunter Lamb joined on bass and guitar respectively. The group started off gigging in Nashville in 2004 and quickly rose to popularity in early 2005, when Fueled By Ramen (The Academy Is..., Gym Class Heroes, Panic! At the Disco) founder John Janick signed the band almost immediately after seeing them perform in Florida. Paramore played the Warped Tour during the summer of 2005 and then released their debut album,
All We Know Is Falling
-- hailed by The New York Times and Spin magazine -- followed by a sold-out tour of North America in 2006. Paramore recorded their sophomore album,
RIOT!
in the winter of 2007 and released the album June 12 of that same year, selling 44,000 its first week in the U.S.