About Me
Ira Blonder

Franklin, TN, United States
Ira Blonder is the Managing Partner of Sound Kitchen Studios (www.soundkitchen.com)and The Blonder Group, LLC (www.blondergroup.com)
View my complete profile


News Archive

Friday, January 15, 2010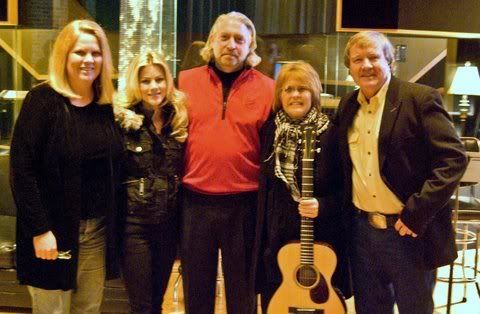 Pictured from Left: Karyn Stayley, Marabeth Poole, Ira Blonder, Pam Rose, Buzz Cason
The Sound Kitchen recently hosted Leadership Franklin in The Big Boy studio this past week. The speakers included Kent Wells, Karyn Stayley, Pam Rose, Marabeth Poole and Buzz Cason.
KENT WELLS
Veteran musician Kent Wells has toured and recorded with many of the top artists in country music including: Kenny Rogers, Dolly Parton, Reba McEntire, Lee Greenwood, The Oak Ridge Boys, Randy Travis, Brooks and Dunn, Travis Tritt and Keith Whitley to name a few. Kent has also appeared on numerous #1 Radio Hits and gold and platinum selling albums. As a Producer, he has produced projects for many hit country artists, Dolly Parton, Michael Peterson, Neal McCoy and 4Runner among others. He also played on and co-produced Dolly Partons' Grammy nominated album, "Halos And Horns" and the Grammy and Oscar nominated song "Travelin' Through." He also produced Dolly Partons' most recent CD release, "Backwoods Barbie" which was the highest debuting Billboard Chart album release of her historic career.
PAM ROSE
Few voices have the power to cut to the bone like Pam Rose's. Layer that over her profound songwriting gift and her consummate musicianship on an assortment of instruments, and you begin to get a glimpse of a real artist.
With longtime writing partner Mary Ann Kennedy, Pam has been nominated for two Grammy Awards, and has won praise for her powerful alliance with Mary Ann as the acclaimed duo; Kennedy Rose. The twosome won the ear of rock star Sting and recorded two CDs for his private label Pangaea Records. As an added treat, they were asked to open for him on one of his World Tours. As special guests of Emmylou Harris, Kennedy Rose also performed twice for President Bill Clinton and First Lady Hillary Clinton, and later at the Nobel Peace Prize Presentation in Oslo, Norway. As a solo artist, Pam has been touring with guitar virtuosos John Jorgenson and Tommy Emmanuel, and has recently rejoined Mary Ann Kennedy and Emmylou Harris to do an acoustic tour of Europe and North America in 2006 and 2007.
BUZZ CASON
Buzz Cason is an American rock legend; singer, songwriter, producer and author. His biggest hit as a writer, with Mac Gayden, was the song Everlasting Love, recorded originally by Robert Knight, which was a #1 hit in the United Kingdom when covered by the Love Affair in January 1968. Carl Carlton's popular version was a #6 hit in the U.S. in 1974 and has logged over 5 million plays, according to BMI.
Cason was also a backing singer for Elvis Presley and Kenny Rogers. In 1970, he founded Creative Workshop, a recording studio, where Jimmy Buffet, Dolly Parton, Jerry Reed, Merle Haggard, The Judds, The Doobie Brothers, Emmylou Harris and Olivia Newton-John have recorded material. His book, Living the Rock'N'Roll Dream: The Adventures of Buzz Cason (2004), is about music, freedom and adventure and sheds light on the events and careers that shaped the early days of rock and roll.
KAREN STALEY
Karen Staley is an award winning songwriter, with number 1 hits by Faith Hill, Tracy Byrd, 3rd Tyme Out and Michael Martin Murphy, Her songs have been recorded by both contemporary country stars like Terri Clark, Trick Pony, as well as icons like Reba, Dolly, Kathy Mattea, Conway
Twitty, Tammy Wynette and George Jones. Her list of hits include Take Me As I Am, Let's Go To Vegas, Every Time I Cry, On A Night Like This, Across The Miles, Face In The Crowd, Keep Walkin' On and more. Three of Karen's songs, Take Me As I Am, Let's Go To Vegas and Keeper Of The Stars have all achieved BMI's Millionaire Award (songs surpassing 1 million radio airplays) twice over…two songs are approaching 3 million plays. Karen won the coveted Academy of Country Music's Song of The Year award with Tracy Byrd's classic Keeper of the Stars which was recently featured on CMT's 100 Greatest Country Love Songs of All Time TV special. Her songs have been nominated for both ACM, CMA, Dove, Grammy and IBMA Awards. As a backup singer and rhythm guitarist, Karen has toured with Faith Hill, Reba, Patty Loveless and Russ Taff. She has also sung on many of their recordings as well as being in demand as a demo singer.
MARABETH POOLE
Marabeth Poole grew up in Utah as the second of five children in a family that lived and breathed music and the arts. She wrote her first song at age 15 and was asked to perform it at a Miss Idaho Falls pageant. The experience was one of the catalysts that set her on a path as a singer and songwriter. Knowing she wanted to start pursuing music as a career, she considered moving to Nashville. The decision was finalized after learning that her singing coach Brett Manning (Can You Duet?) was also making the move. To make ends meet, Marabeth did everything from waiting tables to working as a makeup artist. While living in the Spring Hill area, she saw an opportunity to open a day spa and salon. Today, Natural Oasis Day Spa and Salon has three locations in the greater Nashville area and has been voted among the top 200 salons in America by Salon Today magazine. Marabeth has also been recognized in the community as a stand out leader in the industry and was featured in the Who's Who magazine – Women in Business: Seven Women You Should Know. Notably, her first song was cut by an ACM Top New Artist. "Dreaming Under the Same Moon" She continues to write songs and has enjoyed collaborating with many outstanding singer songwriters.